John M. Diamond, MD
---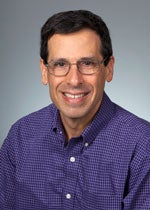 Department of Psychiatry and Behavioral Medicine
4E-94B Brody Building
Brody School of Medicine at East Carolina University
Greenville, NC 27834
Phone: 252-744-2673
Fax: 252-744-3815
Email: diamondj@ecu.edu
Faculty Rank: Professor
Administrative Role: Director, Division of Child and Adolescent Psychiatry
---
Education
Boston University, Boston, MA: BA Degree in Biology, cum laude (1975)
Howard University, Washington, DC: MD Degree (1979)
Intern in Pediatrics, Medical University of South Carolina, Charleston, SC (1979-1980)
Resident in Psychiatry, Medical University of South Carolina, Charleston, SC (1980-1982)
Fellow in Child and Adolescent Psychiatry, Western Psychiatric Institute and Clinic,
University of Pittsburgh, Pittsburgh, PA (1982-1984)
ABPN Certified in Psychiatry 1984, Child and Adolescent Psychiatry 1986
Presentations and Publications
John N, Shelton P IV, Diamond J. Disruptive behavior disorders and ADHD: a problem-based learning activity for psychiatry clerkship students. MedEdPORTAL Publications, 2016;12:10474. http://doi.org/10.15766/mep_2374-8265.10474
Diamond JM, Balaban J, Herdman J, Hoffman T, Kashurba G, Villafane-Garcia M: "Models of Clinical Practice: Patient Care Outside of an Urban Center," ClinicalPerspective, Annual Meeting of the American Academy of
Child and Adolescent Psychiatry, San Diego, CA, 10/24/14.
Christian RB, Farley JF, Sheitman B, McKee JR, Wei D, Diamond J, et al: A+Kids, a web-based antipsychotic registry for North Carolina youths: an alternative to prior authorization, Psychiatric Services, 69(9):893-900, 2013.
Saeed SA, Bloch RM, Diamond JM: Telepsychiatry: Overcoming barriers to implementation, Current Psychiatry, 11:28-32, 2012.
Saeed SA, Diamond JM, Bloch RM: Use of telepsychiatry to improve care for people with mental illness in rural North Carolina, North Carolina Medical Journal,72:219-222, 2011.
Diamond JM, Bloch RM: Telepsychiatry Assessments of Child or Adolescent Behavior Disorders: A Review of Evidence and Issues, Telemedicine and e-Health, 16:1-5, 2010.
Professional Activities
Committee on Rural Child and Adolescent Psychiatry, American Academy of Child and Adolescent Psychiatry
Co-Chair, 2013-present
Medical Director, NC START East, 2016-
American Association of Directors of Child and Adolescent Psychiatry, Past-President, 2018-2020