Letter from the Chairman
---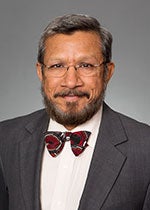 Welcome to the Department of Psychiatry and Behavioral Medicine at Brody School of Medicine at East Carolina University.
There has never been a more exciting time in psychiatry. Today, advances in neuroscience are being translated into clinical practice at a pace that has never been possible before. New diagnostic techniques, neurobiological understanding of mental health and illness, new medications, more effective psychotherapies, and the genetics of mental illness are among the most exciting advances in our field. Several psychotherapies, including cognitive, behavioral, and interpersonal therapies, now have demonstrated evidence supporting their efficacy for specific psychiatric disorders. At no other time in the history of psychiatry and behavioral medicine have such powerful molecular and imaging tools been available to gain deeper insight into the correlations between mind and brain, pathophysiology and symptomatology, and treatments and outcomes. Treatments for psychiatric illnesses have become as effective as treatments for any other types of illnesses. There have been amazing advances in our understanding of the brain's structure and function, how the mind works, and tremendous innovation in treatment. Indeed, this is the most exciting time in history to be in the medical specialty of psychiatry. The Department of Psychiatry and Behavioral Medicine at the Brody School of Medicine captures this excitement.
Our Department offers superb multidisciplinary educational and clinical programs that emphasize the patient as a whole and as a unique person. By focusing on the biological, psychological, and social factors that interact in psychiatric and non-psychiatric illnesses, the Department provides learners with an educational curriculum that emphasizes an integrative approach to psychiatry and behavioral medicine. As we train psychiatry's future leaders, we try to find and attract learners who have a desire to learn and a capacity to excel. Dedicated faculty members support residents' and other learners' professional and personal growth and encourage them to develop their own talents and interests while emphasizing excellence in patient care.
Our residency programs offer training in areas of adult psychiatry; child and adolescent psychiatry and combined Psychiatry-Medicine. Our objective is to prepare tomorrows providers with the clinical skills and knowledge needed to practice psychiatry at its most current and informed levels. To achieve this objective, the Department focuses on creating an exciting academic environment that provides the requisite opportunities for residents to pursue their intellectual interests while developing clinical skills and acquiring the experience needed to further their careers beyond their residencies. We believe that the training at Brody is not just a quantitative body of memorized knowledge or learned skills sets. We strive to develop in our trainees a taste for knowledge, a capacity to explore, an ability to formulate questions and seek answers, and to perceive relationships between fields of knowledge and experience. We understand that the body of knowledge in psychiatry continues to grow. The greatest challenge for our learners will be to keep pace with the evolving field. We emphasize lifelong learning and our learners discover that even after their training is over, their education still continues.
We realize that the academic medical center of the 21st century must meet the demands of clinical service, training, and scholarship within a health care environment that is constantly changing. The Department is dedicated to providing excellence in education, patient care, research, and service in mental health. We strive to foster a collaborative and multidisciplinary training environment committed to improving the health and well being of the people of eastern North Carolina and beyond. We support and advance evidence-based practice, sound scientific principles, and compassion in addressing the needs of our learners, our patients, our colleagues, and our community.
I thank you for your interest in our Department.
Sy Saeed, M.D., M.S., FACPsych
Psych Professor and Chairman